As you gaze out at your garden wishing you could have something of interest in it even when it is winter and most of your plants look dead or barren, TheGardenLady would like to suggest thinking about adding sculptural elements to your garden. Sculptural elements could be things you buy or things you create. Since TheGardenLady tries to give ideas that are not expensive, she would like to emphasize the creative side of garden things you might consider trying to make.
First let me describe the work of two garden sculptors. TheGardenLady is so pleased to have met both of these sculptors.
Patrick Dougherty
The first sculptor is Patrick Dougherty, a man who created an art form using saplings from trees. As far as TheGardenLady knows, Patrick Dougherty created this art form. He cuts down loads of saplings and then, with help from the community where his work has been commissioned (I and others had the fun of helping him build one of these sculptures), removes the leaves and starts creating a sculpture doing nothing more than weaving the saplings together.  See here.
Patrick Dougherty builds his creations as ephemeral, something lasting a short time, creations.  He uses no cement, glue or tape or anything to hold the sculpture together. When he finishes weaving the piece he lets nature take its course. And after a few years, if the piece is outdoors, it breaks down and is removed. Only those who were lucky to visit the site of the sculpture get to see it. TheGardenLady first saw one of Dougherty's piece on the Swarthmore College campus.
At this time of year, you gardeners might have lots of saplings, branches or twigs that you are cutting down. Pick out the ones that will bend and not snap or break. Try creating your own ephemeral garden sculpture. Now don't expect your creation to match Patrick Dougherty in style, shape, size or interest. But it will be your own work of art for your own garden. It might become an addictive hobby.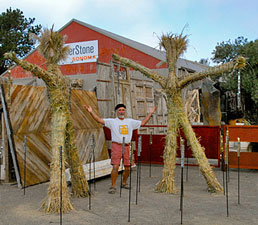 Simple
The second creative sculptor is a man who calls himself Simple.  Simple creates art for the garden and teaches how to make this art or he will come to your garden and create the art in your garden. His brochure reads, "Who has been Simple-ified?" and tells you his creations are at Longwood Gardens, The American Rock Garden Society, etc. He seems to especially like to work with Grasses to create what he calls a Grass Menagerie. These cats or dogs or tall people or anything your imagination can conjure. If you have grasses in your garden, now that they are brown and have to be cut back, this seems like the perfect time to create your grass sculpture and it seems like a fun thing for families and friends to get together to do. Simple is available from fall to spring to teach his personal craft of Horticultural Garden art. Simple can be reached at (610) 404- 1760. or check out his website.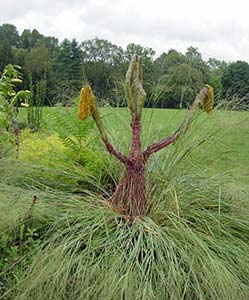 Simple also offers other garden art design ideas.
If you try either of these art forms, please send photos of you creations so that TheGardenLady and her readers can see them.