"]
TheGardenLady received this question from Bonnie.
We planted a knock-out rose bush this past spring. It started blooming and had beautiful roses. We noticed that the stems were cut. The deer are eating them. What can we do?
Deer love roses. It seems strange because there are thorns. In spite of the thorns, I guess deer like plants that humans eat. Rose petals  and rose hips  and  are eaten by humans.  See here, here and here.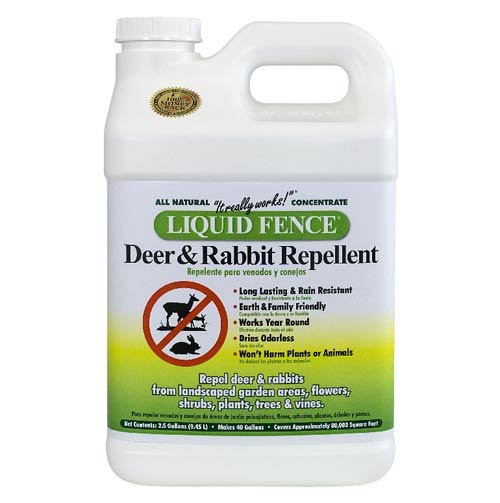 I spray my roses and other plants that deer love with a product called Liquid Fence.  I have been using the product for a few years and my plants are not eaten by deer or rabbits. I think it is pricey because I use it much more frequently than recommended on the container. I have used it even more frequently this summer because of all the rain. Even though the product label says it lasts through rain, I am fearful of losing the plants. Because some some plants are deer resistant, I do not spray all the flowers I have. But I have learned that some plants that I wouldn't think deer would eat, like sunflowers, will be eaten by the deer if I don't spray. Liquid Fence stinks like the rotten eggs that is the major ingredient. That dissipates fairly quickly for the human nose; but the smell lingers for the more sensitive nose of the deer. The one thing that I dislike is that the leaves retain a white film from the spray. However, it washes off in the rain.
Continue reading "Liquid Fence: A Good Deer and Rabbit Repellent for your Roses"