Monday, August 10th, 2009...12:00 am
Iris Art
Perennials are wonderful to have in the garden. Many are almost carefree once they are planted. Oh yes, you have to dig up and divide every few years for optimum bloom, but other than that, you are pretty free of work once the plants are planted. But you do sacrifice something. The sacrifice is that generally perennials have a short blooming period. You have to enjoy them while they are open. Many gardeners try to find perennials of the same type that bloom early, mid season and late. Or you try to find different types of the same perennials that will extend the bloom season. To prolong the season, many artists have tried to capture the beauty of the perennials that they love in paintings, sculpture, ceramics or whichever art they practice.
One of my favorite perennials is the iris. The Japanese iris, the siberian iris, the bearded iris or whatever iris.  The GardenLady loves them all and wishes her garden could hold all off them.
Many aritists around the world over the centuries have created art of the iris. From ancient times to modern times, from the amateur to the professional, in paintings, sculpture, glass art, ceramics, etc. the iris has been memorialized. Here are some examples.
Iris in a floral arrangement by Italian artist Mario Nuzzi 1603- 1673
Juan de Arellano was born in Santocaz near Madrid (Spain) in 1614 and died on October 12 1676.
The Japanese love the iris and some of their great artists have created works of irises.
Ichiryusai HIROSHIGE ( 1797 – 1858 )
Katsushika HOKUSAI (1760-1849)
Many impressionist artists such as Vincent van Gogh and Monet were fascinated with Japanese woodblock prints and began producing works influenced by the Japanese art.
This is a Japanese painting of irises entitled "Irises, Water Plants, and Tortoise" by Ueda Kôfu, Japanese, 1759-1831 Edo period.
Irises by Monet 1840 -1926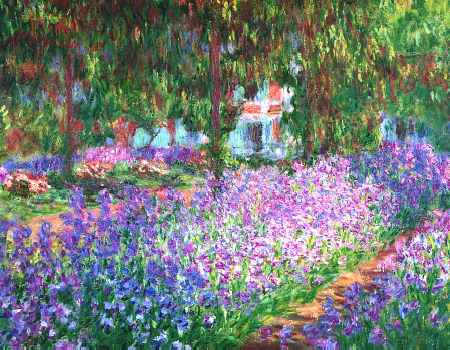 Irises by Vincent Van Gogh 1853-1890
American painter John Ferguson Weir 1841 -1926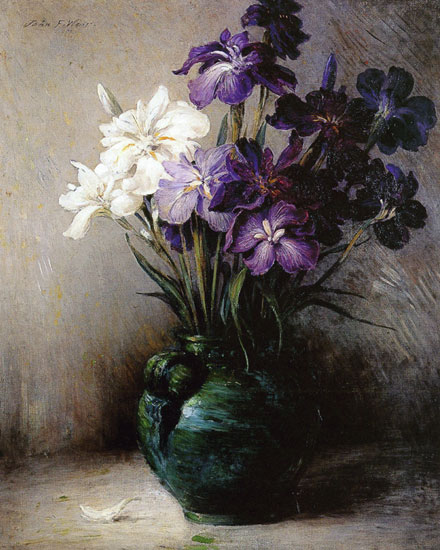 Irises in stained glass by Louis Comfort Tiffany 1848-1933
Georgia O'Keefe 1887-1986
Contemporary sculptor Karl Pfister Iris scupture at Duke Gardens
Rare mjolica iris vase
Contemporary artist Phyllis Sickles- carved gourds
Related Content: